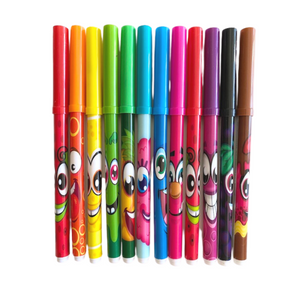 Why we love
 SCENTED MARKERS
Scented markers are an incredible addition to your sensory tool box and provide your child with multiple therapeutic & developmental benefits:
Pack of 12 Fine Line Markers
Bright & Vibrant Colors 
Silly Scents-

Perfect for boosting memory & providing a sense of calm and playfulness to an anxious or stressed child. 

*Smells are linked to the regions of the brain that process emotion and associative learning*
Improved fine motor strength- Children need strong hands and fingers for a wide range of day-to-day activities in school and play.
Finger Isolation- Important for fine motor dexterity and functional tasks. 
Eye Hand Coordination- An essential fine motor skill needed for numerous functional tasks. 
Creativity, Imagination & Art  
 Take the stress out of teaching and discover a new way to build skills and foster sensory development...
PLAY IS THE WAY