*Digital Programs to meet your child's unique needs & goals*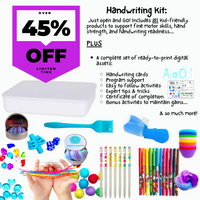 Engaging, kid-friendly and teacher approved!
Our Handwriting Kit provides easy and effective handwriting instruction with no prep & no excuses! Just play for 20 minutes a day!


SHOP NOW!
Therapeutic Intervention with a Playful Twist
Are you looking for an intensive (yet simple!) sensory program to compliment your child's individual therapy needs and goals?  Our digital programs have been thoughtfully created by two professionals- a practicing occupational therapist and a licensed early childhood educator- for use as part of your child's sensory diet. 
Target the most common sensory goals, challenges and behaviors with the help of our experts: Reducing anxiety/ meltdowns, increasing calm/self-regulation, overcoming tactile defensiveness (both food and/or clothing), developing fine motor skills, and general sensory development.
Making sense of sensory regulation challenges